Stress. Such a small and insignificant word carries much weight. We often trivialize stress, failing to see the huge impact it has on our lives and ability to perform.
Stress isn't a condition to neatly sweep beneath the rugs or shrug off. It's a disease, one with claws that sink deep. Stress affects the body on so many different levels. Most of the addictions we embrace is as a result of stress.
Stress not only affects you physically, but impacts your emotions, cognition, and behaviour. Put simply, stress affects how your body functions, feels, thinks, and acts. WebMD sheds light on how stress affects the body in an article, so be sure to give that a glance.
Why Essential Oils Are Good For Stress
---
There is a  a long history of essential oils offering support in mental health improvement. Specific oils can be administered to help ease your symptoms, whether at the physical, cognitive, emotional, or behavioural level.
The thoughts you harbour has a profound impact on your overall being. A worrywart may develop chest and muscle pains and exhibit other physical symptoms. When the mind is exhausted, the physical man deteriorates in strength and resistance. Essential oils may help alleviate these symptoms and help you build fortitude and keep your emotions and actions in check.
In this article, you'll find a list of 10 essential oils for stress relief, along with a few recipe blends you can try at home.
Essential Oils For Stress
---
Use what appeals to you and what will help to relieve your symptoms.
1. German/Blue Chamomile (Matricaria recutita, M. chamomilla)
Not only does German chamomile essential oil sedate the mind, but it quiets disturbing thoughts and promotes rest.
As an added bonus, one of the oil's principal constituents, bisabolol, contains anti-inflammatory properties. It's typical to reach for ibuprofen when contending with a headache or migraines. Blue chamomile creates a similar effect. The analgesic support of the oil acts as a mild pain reliever; it may address physical pains associated with stress, including muscle aches and headaches.
Combine 3 drops of German chamomile with 1 tablespoon of milk and add to an average-sized bath to use as a bath oil. This relaxes the muscles and cossets anxiety.
Use as a massage oil to get a good night's rest from stress-induced insomnia.
2. Valerian Essential Oil (Valeriana officinalis, V. fauriei)
The sedative and mild anodynic activities of the oil may help regulate stress-induced palpitations. Just when you think you've had enough and your heart flutters uncontrollably, valerian perches close. With a mild, yet firm, hold on your heart, it caresses and encourages. It may slow down rapid heartbeat, thwarting life-threatening conditions like a stroke.
To your bath during wash time, disperse 4 drops of valerian essential oil and a tablespoon of base oil or milk. Allow the oil to slowly regulate your heart palpitations and put you at ease.
Add 2 drops of valerian essential oil to 1 tablespoon of your favourite base oil. Use as a massage oil to relax stress-induced pain.
3. Clary Sage Essential Oil (Salvia sclarea)
Stress sends your emotions over the edge. You're out of control and there's the strong urge to regain that control. Clary sage helps you to strengthen your resolve to deal with situations in times of stress and depression.
Stressful encounters also affect one's sexual desires and ability to perform well.  As clary sage does produce an aphrodisiac action, the dying flames of your sexual life might just be rekindled. This arousing oil will restore your libido and bring back excitement into your private life.
Use 3 drops of clary sage oil with a tablespoon of carrier oil as a massage blend to improve sexual appetite while stress tries to rob you of intimacy..
4. Vetiver Essential Oil (Vetiveria zizanoides)
Vetiver's grounding effect may stabilise you. Emotional overwhelm, weepy eyes, and extreme pressure – you name them. The essential oil produces a tonic and sedative effect that works to boost and relax the nervous system. Vetiver essential oil helps you cope with those emotions by planting you firm, immovable.
Put 4 to 6 drops of Vetiver essential oil into an average-sized bath with 1 tablespoon of base oil. Milk can be used as a diluent to substitute for the carrier oil. Soak in the bath for about 15 minutes.
Add to a diffuser 4 drops of Vetiver oil to keep you grounded and poised.
5. Ylang-ylang Essential Oil (Cananga odorata)
Ylang ylang's mild sedative effects is due to its farnesene constituent. This plays on the temper. Ylang-ylang may be used to calm bursts of anger and nervous tension, all symptoms of stress.
As a bonus, the farnesene constituent of the oil may also relax muscle aches because of its antispasmodic effect. If you're always aching with pain because you 'stress too much', let ylang-ylang help your sore, achy muscles relax.
Take ylang-ylang with you as a perfume to beat anger. You can either apply neatly or combine with a base oil such as apricot kernel. 2 drops of ylang-ylang added to pulse points does wonders for your mood.
6. Jasmine Absolute (Jasminum grandiflorum, J. officinale)
Jasmine absolute has a reputation for creating peace of mind. The anti-depressant and sedative action of jasmine may help deal with common symptoms of stress. This is owing to its phytol and squalene constituents. Stress affects what you know, your ability to think with good judgement. Jasmine keeps you focus and alert. You'll feel less tense and anxious about situations that you cannot control.
Phytol is especially a powerful treatment against insomnia. This could dampen your disquieting thoughts to ensure you finally get a good night's rest.
Add 2 drops of jasmine absolute to your diffuser and let it scent your room of choice.
7. Litsea Essential Oil (Litsea cubeba)
Litsea, also known as May Chang, is a refreshing extract. The high citral content of the oil may serve to boost energy levels and lift depression. Litsea may also help with stress-induced panic attacks.
It's a gentle touch to the soul and its refreshing lemony scent is upbeat. You'll be able to think longer and rationally about your situation. Litsea helps put things in perspective when you're stressed so that you can make sound decisions.
Use 2 drops of litsea with a tablespoon of carrier oil to massage on the skin. This will keep you calm and reduce stress levels.
8. Mandarin Essential Oil (Citrus reticulata, C. nobilis)
A principal reason why we loathe prescription drugs is because they're packed with nasty side effects. We don't need that kind of drama. Limonene, the principal constituent of mandarin essential oil, may be used as an anti-stress agent. Research revealed that the anti-inflammatory action of the oil may produce an effect against stress. This may all be without nasty side effects.
Use as a soothing massage oil by adding 2 drops to a tablespoon of base oil.
9. Frankincense (Olibanum) Essential Oil (Boswellia carterii, B. sacra, B. frereana, et al)
Do not remain broken. Frankincense is that calm, uplifting essential oil that lifts you out of the dark. Stress may cause you to shrink into isolation.
The pinene component of frankincense essential oil produces a memory enhancing effect. You know all too well how easy it is to forget what's important while undergoing extreme stress. Studies have shown that frankincense has been used in traditional medicine to increase memory and learning.
Use frankincense essential oil in a diffuser or oil burner by adding 3 drops.
10. Rose Absolute (Rosa centifolia)
It's calming; it's uplifting. Not only does it help to soothe stress-induced aches and pains, but it gives you an attitude adjustment.
Rose absolute pumps your body with energy. You can finally get up and get your laundry done after weeks of procrastinating. Use rose absolute to build fortitude against depression and anxiety by administering as a massage base.
Add 4 drops of rose absolute to 2 tablespoons of carrier oil and massage all over the body to elevate your spirit.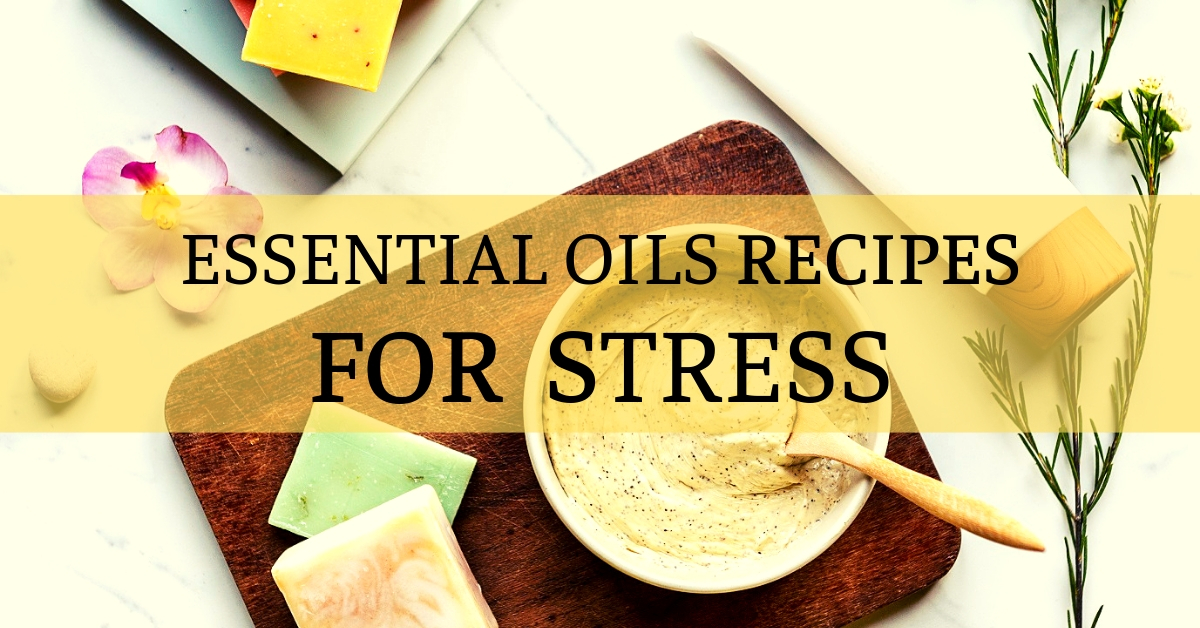 Essential Oils Stress-Recipes & Blends
---
"Sleep Inducer" Ylang-Ylang Plus Chamomile Blend
You may find it difficult to nap when you're stressed. When you have so much thinking about, drowning out internal noise can be difficult.
This blend works to 'quiet' the noise and allow you to rest. You'll no longer wake up disoriented and dazed in the mornings. This calming blend has your back and is ready to take your stress as its own.
4 drops German chamomile
3 drops mimosa absolute
6 drops ylang-ylang
2 drops vetiver
This blend should make at least 30 ml (1 fl oz)
Mix the recommended essential oils and absolutes together. Combine the mixture with 2 tablespoons of cold water.
Add the contents into a sterilized bottle. Bonus if the bottle contains an atomizer so that you can spray the solution.
Disperse the blend throughout your bedroom before retiring.
"Stress Begone" Rose Pampering Bath Bombs
5 drops rose absolute
10 drops geranium
400 g baking soda
200 g citric acid.
1 teaspoon water
1 teaspoon of cocoa butter. (Vegetable oil may also be used as a substitute for the butter.)
Spice things up a bit by adding dried rose petals. Feel free to use any other dried flower petals that you like. Lavender is another great option.
This is expected to make at least 20 bath bombs. Prepare your ice cube molds by lightly greasing. A spray oil can be used for this.
Add the suggested measurements for the dry ingredients in a bowl. I'd suggest wearing gloves for this blend.
Add the cocoa butter to a bain-marie to melt and combine your essential oil and absolute. Poor the mixture to your dry ingredients and mix thorough to combine well.
Add water and use your hands to bring the mixture to a bind. It should bear the resemblance of damp sand or dough (soft). The mixture should come together without fizzing. If the mixture is falling apart, add more water.
Start adding the mixture to the molds, pressing it in lightly. Allow it to set for approximately an hour. Take a bath bomb from the mold whenever you're ready to use. These bath bombs should be kept for no more than 3 months.
De-stressing Massage Blend
This blend helps the body manage chronic stress by encouraging relaxation and quality sleep. If your stress causes insomnia, this is the perfect blend to help you unwind. The clary sage and frankincense blend is especially noteworthy as they both create a sedative and uplifting action.
3 drops clary sage
5 drops geranium
7 drops frankincense
Add 2 tablespoons almond oil
Combine all the ingredients in a container. Pour the contents into a dark, clean glass and secure with a cap.
Massage the solution onto the skin. Apply the oil prior to getting dressed. The oil should be kept for about 3 months.
To Summarize
---
Stress affects the body at a cognitive, physical, behavioral, and emotional level. It can have a profound impact on your outlook on life and how you interact with others.
Stress isn't a condition to be overlooked. It's a disease that could have long-standing, or permanent effects.
Essential oils may help relieve symptoms of stress. Some essential oils work to alleviate stress-induced symptoms that may cause muscle aches and other physical issues.
Essential oils may help protect your mind from anxiety, depression, and negative emotions that could easily sap your joy.
As stress may cause insomnia and decrease energy levels, some essential oils may work to counter that effect.
---
Read more: