Lemongrass essential oil is renowned for its buoyant, feisty fragrance. This marvel in a bottle touts rejuvenating components, creating a more animated and energetic you. Its strength-infusing properties can change your life.
Description
---
Botanical Name: Cymbopogon Flexuosus (East Indian), Cymbopogon Citratus (West Indian)
Origin: Asia
Extraction Method: Steam Distillation
Plant Parts Used: Fresh or partially dried grass (leaves)
Note Classification: Top, top to mid
Scent: Lemon-scented with a refreshing, earthy undertone.
Blends Well With: Cedarwood, ginger, pine, cypress, peppermint, geranium, ylang ylang, lavender, rosemary, eucalyptus, helichrysum
Shelf Life: 3 – 4 years
Cautions:
Maximum Dilution: To avoid irritation of the skin, maximum dermal use of 0.7% is recommended.
Benefits Of Lemongrass Essential Oil
---
Lemongrass essential oil has a plethora of therapeutic benefits when administered. The sensation the oil holds out for your body and mind will be well received. Its strong, caressing aroma is sufficient to excite your senses and calm insecurities of the heart.
It's refreshing. It's vibrant, and it creates a protective wall around your mind to help allay emotional imbalance and disturbance. Lemongrass can be a ray of sunshine, a friend. Will you allow it to? Let's look at how the oil can be used:
for your skin
as a painkiller
for your digestive and gut health
as an insecticide
for your emotional and mental health
Skin Therapy  
---
Beat Excessive Perspiration And Reclaim Your Cool
Sweating is unattractive and embarrassing. Though our body chemicals are wired differently, sweating is caused by physiological factors, including your body temperature. There are also emotional factors such as fear, stress etc that may cause sweating.
Lemongrass essential oil produces and sedative activities that may help to regulate excessive perspiration. While the oil's chemical composition helps to regulate your body temperature, it also keeps you relaxed and calm. As a bonus, lemongrass oil works to mask unpleasant odours that tag along with profuse sweating.
Relieve Unpleasant Athlete's Foot
Athlete's foot is contagious. The fungus can be picked up in several ways. In fact, just having sweaty feet puts you at risk for getting athlete's foot. It leaves your feet itchy, discolored, dry, cracked, and your toenails might move away from the nail bed. Unpleasant!
The limonene and citral components of lemongrass essential oil contain antimicrobial and antifungal activities.  These are powerful constituents that can kill or dampen the development of bacteria and fungi.
Just a friendly tip: Add a drop of lemongrass essential oil to your washer when washing your socks. That will prevent re-infestation.
Loosen Pores, Keep Acne At Bay For A More Confident You
Enlarged pores and debris build-up spells acne… and more acne. Facial acne and blemishes are extreme joy and confidence killers.
With lemongrass, your skin gets the care it deserves. The antiseptic and astringent chemicals may be used to clean clogged pores and prevent an infection. Your countenance will see less inflammation and redness. You'll not only look but feel beautiful. Your confidence will get a boost in the right direction, and people will see the real you; not your breakouts and over sized pimples.
A Tonic For Healthier And Vibrant Skin
Psst… Yeah, you! Come a bit closer. What if I told you that your skin health could improve?  You could have a more vibrant and healthier skin by administering lemongrass essential oil to your skin regimen. Wrinkled, tired, sagging, and oily skin – these all affect the vibrancy and youthfulness you desire. By using lemongrass essential oil, you could help to soothe your skin and reduce fine lines.
Lemongrass' chemical makeup may serve as a natural toner to rejuvenate and refresh your skin. As we age, our skin tends to lose that wow factor. You'll probably not feel like sixteen again, but the elasticity and vibrancy of your skin may improve. Your countenance will wear a radiant glow and your skin will burst with liveliness.
Soothe Nasty Insect Bites And Ease Pediculosis
Geraniol and linalool are active constituents of lemongrass plant that works against insects. The insecticidal action of the oil wards off insects such as fleas, ticks, no-see-ums, mosquitoes, and others. Lemongrass also does a bit more than keep insects at bay. It helps to relieve pain, itchiness, and discomfort associated with insect bites.
The antiseptic properties clean the area, while a sense of calm sets in as a result of the oil's sedative activity. Your mind will be at ease knowing that you have your go-to 'ointment' when you need to soothe nasty insect bites.
For Pain Relief
---
Relieve Muscle Ache And Pain After Extensive Sporting Activities Or Workout
Once your muscles are being exerted, you'll encounter a bit of muscle strain. Your muscles might ache and become sore; you could be in pain for weeks. However, with the chemical makeup of lemongrass oil, your muscles may receive a bit of comfort.
The myrcene constituent of the extract boasts an analgesic action. When administered, this compound of the oil may be used to soothe aching muscles and pain, especially in localized areas. Your taut and sore muscles will feel liberated, as if a gush of wind has graced your face on a parching day.
Soothe Numbing Headaches And Improve Clarity
The pain-relieving attributes of myrcene may help to relieve tension in the head. Maybe you've been suffering from a headache as a result of a sinus infection. Your headache might also have been caused because of noise increase in your environment. This could drive you crazy. A headache is not only painful, but it affects your ability to think.
Once your mental health isn't at its apex, you'll lack focus and discernment to make proper decisions. Not only is myrcene an analgesic, but its chemical formation also creates a sedative action. This is used to cosset your mind and tranquilize tension that dampens clarity.
Help Regulate And Ease Discomfort From Poor Circulation
If your circulatory system becomes sluggish, blood flow will be reduced in certain areas and you'll be in pain.
And if you suffer from poor circulation in the head, your ability to remember things will be affected negatively. Lemongrass produces a stimulant effect that arouses the circulatory system to action.
As varicose veins come hand-in-hand with poor circulation, administering lemongrass regularly may have a positive effect on that too.
For Your Digestive And Gut Health
---
Remedy Gastric Infections, And Ease Discomfort From Inflammatory Bowel Disease
Lemongrass wields an anti-inflammatory action because of the presence of the limonene compound. The anti-inflammatory action can be used to improve symptoms associated with IBD (Inflammatory Bowel Disease) and issues of the gut.
The next time you're contending with abdominal cramps, vomiting, and cases of diarrhea, lemongrass may provide a bit of relief. Research shows that the plant produces anti-inflammatory, anti-dyspeptic, and stomachic activities, which may help to soothe the above conditions.
Ease Upset Stomach And Indigestion
Indigestion is unattractive and uncomfortable. You'll feel intense pain along your stomach or belly area; bloating is a common assault and you may suffer from belching and flatulence.
The anti-dyspeptic and stomachic activities of lemongrass essential oil works to alleviate dyspepsia or indigestion. It also produces a carminative action that works well against gas. The next time you fall into a bit of a gas dilemma and need comfort, rush to fetch your lemongrass essential oil.
As An Insecticide
---
Clean Dog House And Keep Fleas and Ticks At Bay
It isn't uncommon for your furry friend to pick up fleas and ticks as they wander in the community. By whatever means, your dog will likely suffer from a flea or tick infestation. They'll then take these back to their kennels or sleeping quarters.
Used as a key ingredient in repelling insects, lemongrass essential oil can be administered to clean your dog's house. The high geraniol and citral content make it a powerful repellent against fleas and ticks.
Repel Picnic And Barbecue Intruders For More Outdoor Fun
Most homeowners who stage a backyard picnic or barbecue end up on the meal menu. Insects like mosquitoes and no-see-ums love to intrude a festive moment.  Some of these party-poopers not only cause redness and skin reactions with their bites, but they also transmit diseases. According to CDC, insects like mosquitoes could spread dengue, malaria, Chikungunya, and the Zika virus.
You can administer lemongrass as a repellent to keep pests at bay. Apply the oil to your picnic area and also directly to your skin to repel them. Take back your peace of mind with lemongrass.
For Emotional And Mental Well-Being
---
Chase Away Feelings Of Melancholy And Despair
The constituents of lemongrass produce detoxifying and cleansing activities. It promotes change and incites you to look to a better future. It purifies the mind and loosen the grips of negative emotions.
Lemongrass dispels negative emotions and keeps your mind above deep waters. You'll leave stagnant energy where they should be and embrace healthy, positive emotions for a new you.
Reinvigorate The Body To Boost Energy Levels And Dispel Tiredness
Do you walk hand-in-hand with tiredness? Is it difficult getting out of your daily funk to get things done? As a cleansing oil, lemongrass may remove negativity so that you can bubble with life and energy.
The oil produces a tonic effect when administered, which may encourage and stimulate your body's natural systems to action. You'll feel better emotionally and mentally.
Read next – How to actually use lemongrass oil? 12 practical ways here!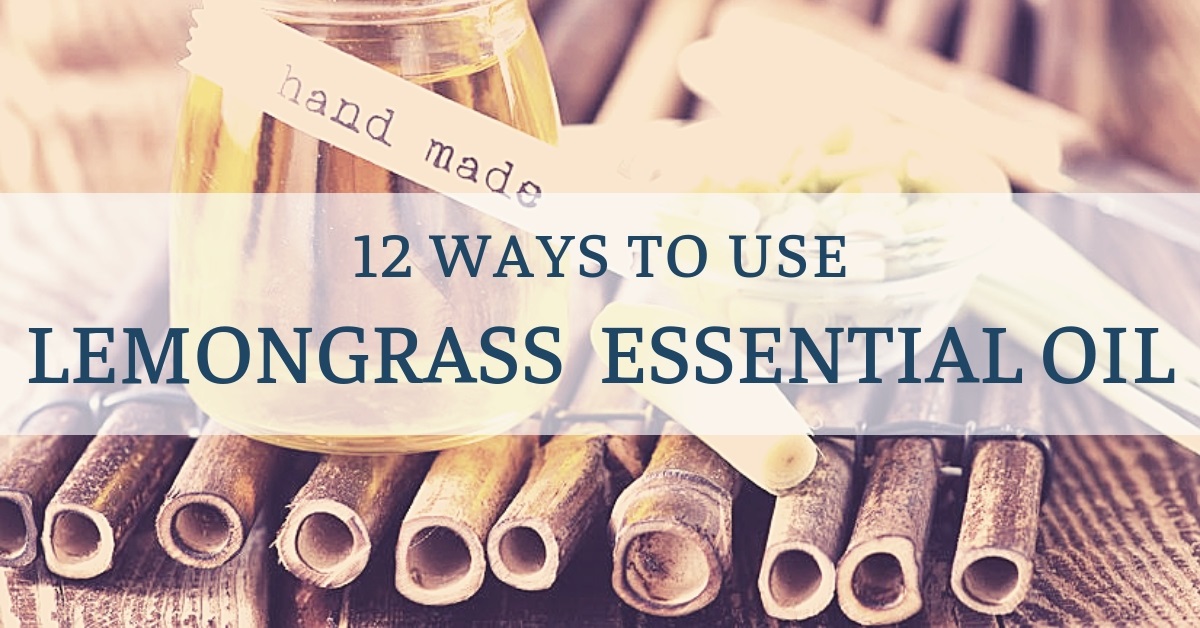 The Bottom Line
---
Lemongrass blends well with ylang-ylang, peppermint, rosemary, lavender essential oil.
Add lemongrass to your skin regimen to combat acne and perspiration, and also treat athlete's foot and irritation from insect bites.
Use lemongrass to soothe headaches, muscle pain, as well as encourage circulation.
Use lemongrass to remedy your upset stomach, indigestion, and even bloating.
Keep insects such as fleas, ticks, lice, and mosquitoes at bay with lemongrass. Clean your dog's house with lemongrass to ward off fleas.
Improve your mental and emotional well-being with lemongrass. It'll help to ward off negativity and sadness. Always feeling tired? Then lemongrass may boost your energy levels.
---
Read next: