Pain – we have all experienced it in some way from the mild sting of a paper cut to the tenacious dull ache of arthritis to the debilitating fiery migraine. It is a universal subjective sensory experience and one that scientists have long been working to understand.
Although we all know what pain feels like, we often find it hard to quantifiably define pain.
Why Essential Oils Help Relieve Pain
---
Essential oils can help to alleviate pain without the artificial ingredients, chemicals, and harsh side effects of OTC and prescription medications. Where prescription medications are truly needed, essential oils may be used to augment and enhance pain relief.
Each essential oil has a unique chemistry and is made up of constituents or components which have been observed to exhibit certain properties. For example, when it comes to reducing pain, oils containing methyl salicylate have historically been found to be quite effective.
15 Best Essential Oils For Pain Relief
---
To guide us through the oil selection process, it helps to learn about the therapeutic properties of our oils. We can then compare them to conventional medications and find oils which work in similar ways.
To get started, here is an alphabetical list of the 15 oils which work best for treating pain:
1. Birch, White (Betula alba)
White birch essential oil works well on somatic nociceptive pain such as muscle soreness, muscle strains, joint sprains, inflammatory arthritis, rheumatoid arthritis, and rheumatism.
This oil contains salicylate, a pain reliever which is found in aspirin and is an active ingredient in many topical commercial analgesics.
White Birch is also a diuretic, anti-inflammatory and anti-spasmodic. This means that it helps flush extra fluids out of swollen areas, decreases swelling, and helps prevent muscle cramping.
2. Black Pepper (Piper nigrum)
Black pepper essential oil works well on somatic nociceptive pain such as muscle soreness, muscle strains, tendonitis, inflammatory arthritis, rheumatoid arthritis, and rheumatism.
Black Pepper's warming effects result in improved circulation which provides relief of arthritis symptoms. Its anti-spasmodic properties help relax muscle cramps and spasms.
3. Chamomile Matricaria (Chamomilla matricaria)
Chamomile matricaria oil is a soothing oil which has shown success at decreasing pain from arthritis, headaches, toothaches, earaches, neuralgia, and muscle strains.
This oil has anti-inflammatory, anti-spasmodic, muscle relaxant, and sedative properties which make it an excellent choice for many types of nociceptive and neuropathic pain.
4. Clove Bud (Syzygium aromaticum)
Clove bud essential oil's anti-neuralgic properties help earn it a place as the best essential oil treatment for toothaches.
This oil also has analgesic properties which can diminish pain from mouth sores, arthritis, and bruises.
Its antiseptic and analgesic characteristics combine to make clove bud an excellent choice for treatment of burns and cuts. This oil can help prevent infection while diminishing pain.
5. Eucalyptus (Eucalyptus globulus)
A 2013 Korean study found that inhaling eucalyptus oil was effective in reducing subjective pain and lowering blood pressure in patients following total knee replacement surgery. [1]
Eucalyptus oil works to reduce inflammation, swelling, and pain. It also promotes mental and emotional well-being, making it a good choice for treatment of psychogenic pain.
6. Geranium Egypt (Pelargonium graveolens)
With its pleasantly relaxing aroma as well as anti-inflammatory and analgesic properties, Geranium Egypt essential oil is an optimal choice to treat all types of pain.
The aromatherapy benefits can help alleviate psychogenic pain while its other properties make it a good choice for nociceptive pain.
7. Juniper (Juniperus communis)
Juniper essential oil is uniquely effective at reducing pain in the case of gout, rheumatoid arthritis, inflammatory arthritis, and rheumatism. These painful conditions are marked by increased concentrations of uric acid in our bodies. Juniper oil eliminates the uric acid, thereby reducing our pain.
8. Lavender (Lavandula angustifolia)
Lavender essential oil is wonderfully effective at reducing pain from a wide variety of conditions including burns, headaches, muscle aches, arthritis, rheumatoid arthritis, inflammatory arthritis, and rheumatism.
It works on all 4 types of pain providing emotional relaxation, mild physical sedation, increased circulation, and decreased swelling.
9. Peppermint (Mentha piperata)
Peppermint essential oil works to reduce pain much in the same way as the active ingredients in traditional topical analgesics.
Use this oil to help with muscular pain and back pain. If you are prone to migraines or sinus headaches, peppermint oil is also highly effective.
Note: Avoid if you have a G6PD deficiency. Use homeopathic dose (14 drops of carrier oil to 1 drop of peppermint oil) if you have epilepsy or a heart condition
10. Plai (Zingiber cassumunar)
Plai is our essential oil friend in combatting and reducing post-workout muscle soreness, officially referred to as Delayed Onset Muscle Soreness (DOMS).
A 2016 study published in the Journal of Integrative Medicine found that a 14% Plai cream "substantially reduced muscle soreness symptoms." [2]
11. Rosemary (Rosmarinus officinalis)
Rosemary essential oil is particularly suited for alleviating neuropathic pain. This oil has been successfully used to treat headaches, migraines, sciatica, neuralgia, and various other forms of nerve pain.
Rosemary is an anti-spasmodic, muscle relaxant oil whose aroma can also be calming. This suits it well to treating both neuropathic and psychogenic pain.
Note: Do not use if you have high blood pressure or epilepsy. Avoid using on or near children's faces.
12. Spikenard (Nardostachys jatamansi)
Spikenard essential oil is extremely sedative and analgesic. It also has anti-inflammatory qualities and works to improve circulation.
This oil is effective on nociceptive, neuropathic, and psychogenic types of pain.
13. Sweet Basil (Ocimum basilicum)
Sweet Basil essential oil is analgesic, anti-inflammatory, and improves circulation. It works particularly well for improving migraine symptoms.
This oil may also be used to treat psychogenic pain by helping to restore emotional equilibrium.
14. Tea Tree (Maleleuca alternifolia)
Tea Tree's infamous antibacterial, antiviral, and antiseptic properties may not seem to apply to pain relief, however if the pain is caused by an infection, tea tree oil can be very helpful.
Tea tree oil acts as an immune-stimulant helping our bodies to fight off painful infections. As with other sources of acute pain, once the infection clears, the pain is gone as well.
15. Yarrow (Achillea millefolium)
Yarrow is an excellent sedative and analgesic agent. It is also anti-spasmodic and anti-inflammatory, making it suitable for treating many types of pain.
Essential Oil Pain Relief Recipes
---
Crafting essential oil blends and recipes is a fusion of art and science. The main things to keep in mind from the science perspective are: therapeutic actions of the oil, contraindications, dilution ratios, and recommended administration route.
Within those guidelines, feel free to mix and match oils. Create your own blends based on your particular needs.
Always be sure to follow appropriate safety guidelines.
Arthritis Topical Pain Relief Recipe
4 drops eucalyptus
4 drops white birch
2 drops peppermint
6 drops lavender
3 drops rosemary
½ ounce tamanu carrier oil
½ ounce grapeseed carrier oil
Pour carrier oils into a dark colored glass bottle. Add essential oils, cap, and shake gently to mix. Apply topically to painful joints.
Post-Workout Muscle Soreness Recipe
42 drops Plai
1 tablespoon coconut carrier oil
Place coconut oil in 20 ml glass rollerball container. Add Plai oil and shake gently to blend. Roll onto muscles following workout to help prevent soreness.
Burn Treatment Recipe
For first degree burns (burns in which the skin turns red but does not blister), cool the area by running it under tepid water.
Create a compress by adding drops of lavender oil to a non-stick gauze pad and applying it directly over the burned area.
Note: If burns are blistered or skin is peeling, do not apply treatment. Seek medical attention for all severe burns.
Joint Pain Bath Soak Recipe
4 drops lavender
4 drops juniper
2 tablespoons whole milk
Add essential oils to the milk and stir to disperse. Add this blend to a warm bath and soak for at least 20 minutes to ease pain and draw out lactic acid associated with gout, rheumatism, and rheumatoid arthritis.
Post-Surgery Pain Relief Recipe
4 drops eucalyptus
½ tablespoon sweet almond carrier oil
Mix ingredients and soak a 4"x2" gauze pad with the blend. Lie down and place the pad directly under your nose. Breathe deeply and relax for 30 minutes.
Note: This blend can also be helpful to use during physical therapy.
Strained Muscle Pain Relief Recipe
2 drops lavender
2 drops juniper
2 drops black pepper
2 drops geranium Egypt
1 tablespoon apricot kernel carrier oil
Mix ingredients together. Using gentle massage techniques work the oils into the skin over the sore area.
Note: If your injury is potentially serious, consult your doctor prior to conducting massage.
Migraine Pain Relief Recipe
5 drops sweet basil
1 tablespoon Epsom salts
Small bowl of cold water
Hand towel or washcloth
Add  the oils to the Epsom salt in a glass jar, close the lid and shake until well blended. Add this to the bowl of cold water and dissolve the salt. Soak the towel or washcloth, wring it out, and place it on your forehead. Add an ice pack or frozen gel pad on top of the cloth to enhance the cooling sensation.
Fibromyalgia Pain Relief Recipe
6 drops yarrow
6 drops spikenard
6 drops rosemary
6 drops chamomile matricaria
2 tablespoons Arnica infused sweet almond carrier oil
Combine the essential oils with the carrier oil. Massage blend into the body with extra focus on sources of pain.
To Summarize
---
Essential oils have similar therapeutic properties to conventional pain relief treatments. This means that essential oils may help relieve pain.
Always follow established safety guidelines regarding using essential oil use, especially if you have certain medical conditions, are pregnant, nursing, or taking any medications.
Certain oils such as black pepper, eucalyptus, juniper berry, peppermint, rosemary, sweet basil, white birch, should be avoided throughout your pregnancy. Others like chamomile matricaria, clove bud, geranium Egypt, lavender, spikenard, tea tree, and yarrow are generally considered safe after the 16th week of pregnancy.
---
Read more: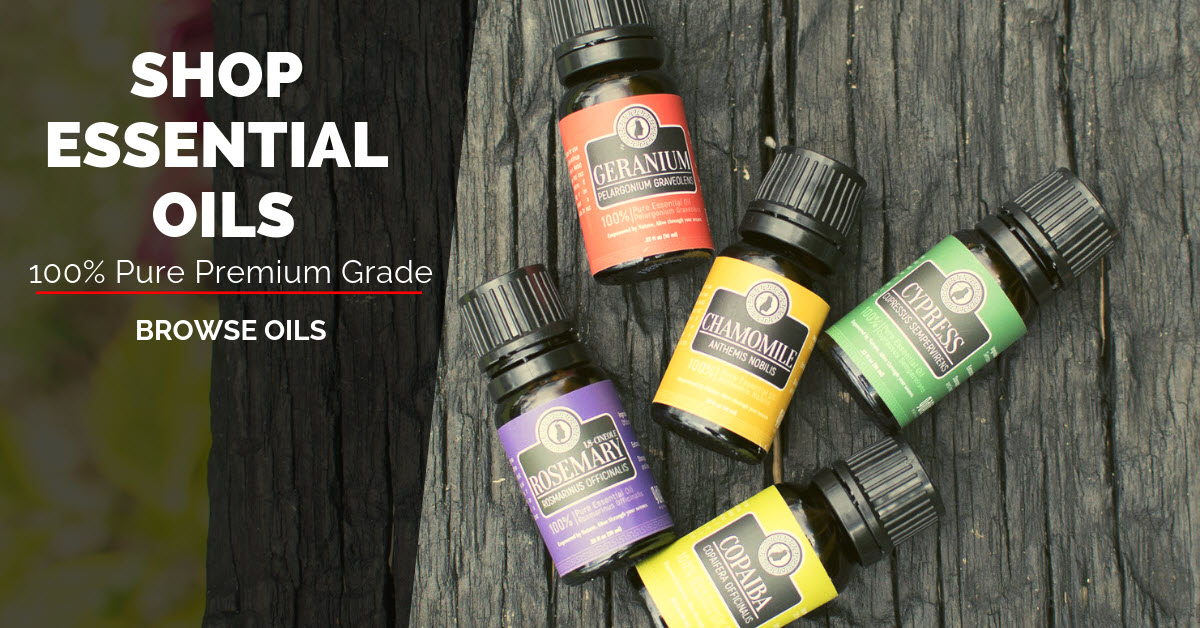 [1] Yang, Suk Jun et al., "Effect of Eucalyptus Oil Inhalation on Pain and Inflammatory Responses after Total Knee Replacement: A Randomized Clinical Trial." Evidence Based Complementary and Alternative Medicine. 2013: 502727. Web. 2018 Sept. 17.
[2] Manimmanakorn, Nuttaset et al., "Effects of Zingiber Cassumunar (Plai cream) in the Treatment of Delayed Onset Muscle Soreness." Journal of Integrative Medicine. Volume 14, Issue 2, March 2016, Pages 114-120. Web. 2018 Sept. 17.