Call them purple or lavender, the shade is in the eye of the beholder. Yet the overall description of a field of blossoming lavender defies description. It is radiant, magnificent, spell-binding. And so it is with lavender essential oil. It bestows balance, grace, protection, and positive power.
Description
---
Botanical Name: Lavandula angustifolia
Origin: Mediterranean
Extraction Method: Steam distillation
Plant Parts Used: Flowers
Note Classification: Top to middle
Scent: Floral, light, woodsy
Blends Well With: Clary sage, geranium, mandarin, frankincense, vetiver, lemon, patchouli, bergamot, rosemary, and cedarwood
Shelf Life: 5 years
Cautions:
4 Powerful Benefits Of Lavender Essential Oil
---
As you embark on your journey with lavender essential oil, you'll be amazed by this delicate yet versatile oil! It softens mood, releases tension, aids with sleep, protects skin, and freshens homes. It imparts a welcoming message, as it defies those that bring harm, as microbes are wont to do.
You will enjoy these power-filled gifts offered by lavender:
Glossy Skin And Hair
Boosting wellness
Calming
Harmonizing Home Care
For Lustrous Skin And Hair
---
Heals Sores And Irritations
The compounds in lavender essential oil aid in fighting acne infections. They tone skin, reducing pore size and infection potential. These powerful natural chemicals go on to help tissues regenerate with as little scarring as possible. What a relief! These protective and balancing benefits extend to other skin irritations such as dermatitis. Lavender's ability to reduce inflammation is one reason it is used for so many skin cares.
Soothes Wounds And Bites
Regardless of what hurts your skin, don't let it completely wreck your day. Lavender is packed with components that offer immediate aid. One is an alcohol named linalool that fights the very microbes that can infect a wound.
Lavender's ketones then get to work, quelling inflammation and the redness, itching, and pain that are its hallmarks. And to top it off, the ketones go to work, helping to build new skin tissues.
Bestows Supple Skin
Please don't let this blossom's dainty appearance fool you. She is a treasure of luscious compounds, ready to transform your skin into the soft, supple adornment you desire.
Lavender is refreshingly absorbed into the layers of skin where sebaceous glands produce oils. Lavender's compounds coax these glands toward balance, especially bringing the grace of drying for that which is oily. This process and lavender's tissue regenerative and stimulating benefits create supple, lustrous skin. Use it to make lovely gift for a special person in your life.
Uplifts Your Crowning Glory
Lavender essential oil is poised to dance with you as you celebrate no more bad hair days! Just think of it, glistening hair that sparkles in the sun as it wafts lavender's aroma with every toss of your head. Lavender helps to alleviate dandruff and balances the oils your scalp releases.
This occurs because its beneficial compounds are absorbed into the layers of skin that cradle hair follicles and oil glands. Nurturing your scalp is the first step toward healthy hair!
For Boosting Wellness  
---
Supports The Immune System
Lavender provides the primary supports our immune systems need. Those include restful sleep, stress reduction, and protection from inflammation.
By offering support in reducing stress, lavender helps to reduce cortisol levels as we rest. Were it to remain elevated it could contribute to inflammation…not good. A group of healthy human volunteers were found to have reductions in saliva cortisol levels after smelling lavender.
When our immune system is balanced, it is on the ready should anything go wrong. Lavender essentially partners with the immune system to fend off potential harms.
Quells Inflammation
Regardless of the cause and duration of inflammation, lavender and her hardy compounds are poised to offer aid. The alcohol linalool partners with the ester linalyl acetate to provide anti-inflammatory activity, as was observed during a 2003 in vivo study of mice. More recently, a 2015 in vivo study of mice concluded that lavender essential oil shows analgesic and anti-inflammatory activities. Such actions bring comfort to swollen, sore tissues. That certainly is a relief!
Increases Infection Resistance
Lavender has the ability to repel viruses and bacteria. It aids in recovery from respiratory infections, digestive ailments, and assorted inflammations that are worrisome and draining. It is able to do so because of the array of compounds that make lavender essential oil so well known and highly prized.
These compounds include alcohols, ketones, and esters that offer distinct yet complementary benefits. The main alcohol is linalool, known to stave off bacteria and viruses. It also offers soothing effects to reduce the exhaustion and headaches that can plague us when we're out of sorts.
For Bestowing Calm
---
Aids Sound Refreshing Sleep
You have likely noticed that lavender is used in marketing sleepy-time products. Its gifts of encouraging restful sleep and sweet dreams are well known. This reputation is well deserved and is because of a main compound, linalyl acetate, that promotes calm and sleep. This terpene compound also offers a mental boost, one reason for feeling refreshed following a lavender supported sleep. Plus it adds a fruity, minty aroma to your dream time, adding a bit of extra refreshment.
Induces Relaxation
One sure benefit of lavender essential oil is that it is analgesic, offering added comfort when most needed. That, along with its muscle relaxing abilities and mood balancing, makes lavender a truly lovely friend when tension is mounting. Inhale it or dab it on the wrist pulse points right from the bottle. No fuss, no muss with this beauty. It's sweet to be as independent as this lovely flower.
Promotes Emotional Wellbeing
It is the esters in lavender that promote mood and emotional wellbeing. This provides a balancing effect that lifts feelings of depression, yet does not cause a feeling of over-excitement. Anxiety is alleviated, particularly as lavender enhances clarity and focus. It aids with release of worry, interestingly combining this with relief of muscular tensions. This helps with being able to bounce back and move on with things. It's just this sort of resilience-inducing quality that makes lavender a standout among essential oils!
Eases PMS
Lavender's esters come to the rescue yet again, easing muscular tension, including that of the reproductive system. Plus lavender has sedative qualities that soften all the raw edges that can exist before and during menses.
For Harmonizing Home Care
---
Your Wardrobe Wonder
Do you have clothes you love that are no longer fresh? They simply need the aromatic pick-me-up that lavender offers. Doing so benefits mood as well as giving your favorite clothes a needed lift. Lavender also adds freshness to footwear, along with its protective aromatic traits.
The same applies to gloves and mittens. In fact, there is a tale that French aristocratic ladies dipped their leather gloves in lavender to ward off the plague. That is one spectacular wardrobe wonder!
Bedroom Balm
Lavender essential oil can be used for cleaning your mattress and bedroom carpet and rugs, and be spritzed on bed linens to aid with sound sleep.  Lavender even wards off pests! It can be used in drawers, closets, and in other areas, from a master suite to a cozy cabin loft. Lavender essential oil used in children's rooms supports their sleep, moods, and overall wellbeing.
Cleaning Wonder
Do you have books that you cherish and never want to give up? The only issue is they smell musty. Reach for lavender to save those books. Dusting them with a lavender infused cloth can offer new life. And perhaps a sachet tucked here and there will add to the comfort of your book nook. Your mood is doubly calmed by reading in lavender endowed surroundings.
This same principle can be applied to any area of your home. Wherever you choose to use lavender essential oil, you add all of its benefits, from those that are cleansing and protective, to those that are calming.
Read next – How to actually use lavender oil? 15 practical ways here!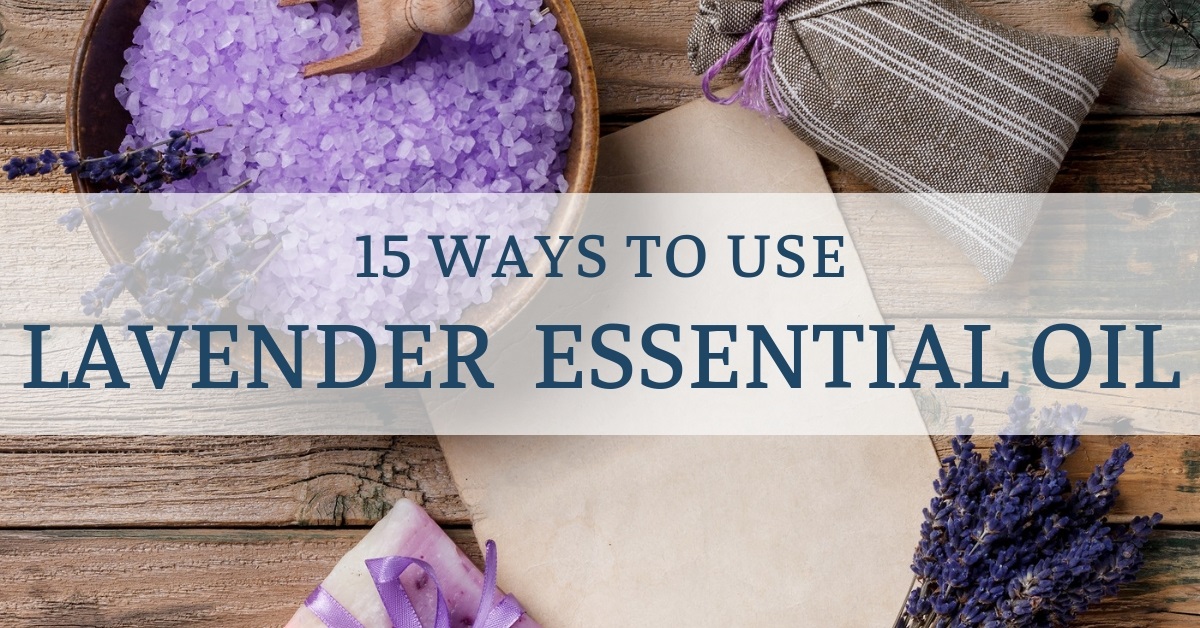 The Bottom Line
---
Lavender have been used for care and protection for centuries. It is one of the most widely known oils.
Lavender essential oil is the focus of many research studies, either alone or in combination with other oils.
It supports skin health, adds sheen to hair and supports sleep.
Lavender has multiple uses for warding off infections.
It offers support when experiencing anxiety, emotional ups and downs, and monthly blues.
---
Read more: