While 20% of the population may be blissfully breakout free, the remaining 80% of us have been dealing with at least minimal breakouts if not full scale, debilitating acne since our teens.
We have heard all the old wives' tales instructing us to stop eating chocolate or to scrub our faces more often. We have received conflicting advice on whether we should pop or not pop pimples.
We have tried specialty washes, scrubs, and spot treatments with varying degrees of success.
We have found ourselves frustrated, wondering what actually causes acne and what we can do to heal it.
Why Essential Oils Help Treat Acne
---
There are many essential oil remedies which work well for the treatment of mild to moderate acne.
Essential oils can often provide symptom improvement without the artificial ingredients, chemicals, and scary side effects commonly associated with standard treatments.
Each essential oil has unique characteristics. Certain oils have therapeutic properties similar to those of conventional acne treatments. This makes them particularly effective in the treatment of acne. When we learn about these oils, it becomes easier to choose which will work best for us.
Top 10 Essential Oils For Treating Acne
---
When selecting essential oils to use for treating a specific condition, a helpful guideline is to seek out those oils which have similar therapeutic properties to the conventional therapies we are augmenting or replacing.
Still, the sheer number of essential oil choices for complementary therapy can seem staggering. To help, here is a list of the top 10 essential oils for treating acne.
1. Tea Tree (Maleleuca alternifolia)
Tea tree oil is one of the most potent and well-known essential oils for acne treatment. Its antibacterial and antimicrobial properties which allow it to kill bacteria and germs have been well-researched in multiple studies.
A 2007 study conducted by the Isfahan University of Medical Sciences' Dermatology Department was one of the more recent studies to scientifically confirm tea tree oil's effectiveness for treating acne.
They found that a 5% tea tree gel performed 3.55 times better than a placebo in terms of decreasing the total number of acne lesions and 5.75 times better than a placebo for decreasing overall acne severity. [1]
2. Lavender (Lavandula angustifolia)
Lavender oil is most commonly known for its soothing, stress reducing qualities as an aromatherapy agent. If your acne is triggered by stress, just smelling lavender can help reduce your stress levels.
As an antiseborrheic agent, lavender also helps reduce excess oil production. This makes it an excellent oil of choice for acne caused by excess sebum as is often the case during puberty.
If you have dry skin and are dealing with acne caused by irritation, lavender is not recommended as it may further dry the skin.
Lavender's antimicrobial properties are beneficial in terms of acne treatment; lavender oil helps to kill germs and prevent infection.
3. Frankincense (Boswelia carterii)
Frankincense is not just a fragrant oil; it is also packed with skincare properties that your acne prone skin will love! This oil is gentle and an excellent choice for reducing inflammation of sensitive skin.
Frankincense oil promotes cellular regeneration and healthy elimination of dead skin cells while working to balance oil production. These therapeutic properties make frankincense an ideal natural substitute for both retinoids and salicylic acid.
4. Clary Sage (Salvia sclarea)
Clary Sage reduces skin inflammation and acts as an antimicrobial agent.
This oil also helps to regulate your skin's oil production, making it extremely beneficial in the case of acne caused by excess sebum.
Clary Sage mimics estrogen, so if you are a woman whose acne is triggered by your menstrual cycle, this oil may be particularly effective.
Its delicious cold tea aroma makes it an appealing choice for men who tend to prefer it over the more floral aromas of many other essential oils.
5. Juniper Berry (Juniperus communis)
Juniper Berry is another antibacterial and antimicrobial oil with the added benefits of antioxidant and astringent qualities.
This means that not only does juniper berry oil help to clear our skin of acne, but it also improves overall skin health.
6. Carrot Seed (Daucus carota)
Carrot Seed oil appears in many commercial facial products thanks to its inherent ability to stimulate collagen production much in the same way as retinoids do.
Increased collagen production can help recessed acne scars and marks to become less noticeable over time.
Carrot seed oil is also an excellent cleanser with antiseptic properties.
7. Myrrh (Commiphora myrhha)
Myrrh helps our skin to heal and regenerate. If acne has left you with broken sores, myrrh may speed the healing process.
8. Jasmine (Jasminum officinale)
Jasmine oil helps to reduce the appearance of existing scars and aid in the prevention of new ones by enhancing skin's elasticity.
Its antiseptic properties work to keep healing skin clean.
9. Helichrysum (Helichrysum angustifolium)
Helichrysum oil works to reduce the potential for acne related scarring by stimulating circulation and skin regeneration. This therapeutic action is similar to that of retinoids.
10. Chamomile Matricaria (Chamomilla matricaria)
Chamomile Matricaria oil is a lovely and soothing blue colored oil. Its anti-inflammatory and analgesic properties help to reduce the redness and soreness that can accompany severe acne.
Essential Oil Recipes For Skincare Products
---
Here are some recipe ideas to get you started building your personal skincare collection. Learn what works best for your own unique skin needs and customize from there.
Always be sure to follow appropriate safety guidelines.
Note:
To avoid potential skin sensitivities, remember to dilute essential oils with carrier oils or other ingredients. Apply only as frequently as your skin tolerates. If you experience skin irritation or sensitivity, discontinue use and consult a physician.
Carrot Seed Facial Cleanser Recipe
2 tablespoons oatmeal
1 tablespoon honey
1 tablespoon jojoba carrier oil
4 drops carrot seed essential oil
Grind up oatmeal using a blender or food processor. Remove from blender and stir in remaining ingredients.
Apply mixture to face using clean fingers (be sure to avoid eye area) and let sit for up to 20 minutes. Rinse face with cool water and pat dry.
Clary Sage & Juniper Berry Facial Toner Recipe
1 tablespoon witch hazel
1 tablespoon raw apple cider vinegar
½ cup distilled water
3 drops clary sage essential oil
3 drops juniper berry essential oil
Thoroughly mix the first 3 ingredients, then add essential oils. Apply toner to face with a cotton ball, avoiding eyes. Use toning blend each evening following facial cleanser.
Store excess toner in a dark glass jar in a cool location.
Frankincense Facial Moisturizer Recipe
1 ounce aqueous lotion
1 teaspoon grapeseed carrier oil
6 drops frankincense essential oil
Mix ingredients and apply to face following toner. Avoid eye area. Store excess moisturizer in a dark glass jar in a cool location.
Tea Tree Blemish Spot Treatment
If your skin isn't particularly sensitive, you can carefully use a facial swab to dab a drop of tea tree oil directly onto blemishes once a day. If irritation occurs, try using the diluted recipe below.
For those of us with more sensitive skin, it is best to dilute the tea tree oil using carrier oils.
½ teaspoon grapeseed carrier oil
2 drops tea tree oil
Mix ingredients and dab directly onto blemishes once a day avoiding contact with eyes.
Store extra spot treatment in a dark glass jar in a cool location.
Lavender Facial Exfoliator Recipe
1 cup brown sugar
¼ cup jojoba carrier oil
2 drops lavender essential oil
Mix all 3 ingredients until the sugar and oil are fully combined. After cleansing face, gently rub scrub onto face avoiding eyes. Leave mixture on skin for 20 minutes before rinsing off and patting dry.
To avoid skin irritation, apply scrub no more than once a week and avoid exfoliating areas with active breakouts.
Store excess scrub in a glass jar with a screw top lid. Add additional jojoba oil or brown sugar as needed to maintain correct consistency.
Myrrh Face Mask
1 tablespoon aloe vera gel
3-6 drops myrrh essential oil
Mix ingredients and gently spread mixture onto face avoiding eyes. Relax and leave on for 20 minutes. Rinse and gently pat dry.
Carrot Seed & Lavender Steam Treatment
1 large glass bowl boiling distilled water
2 drops carrot seed essential oil
1 drop lavender essential oil
Add both essential oils to the bowl of boiling water. Lean over the bowl so your face is about 6-8 inches from the water (avoid getting closer as you don't want to scald yourself). Make an airtight tent over your head and the bowl using a towel. Continue the stream treatment for up to 10 minutes.
Gently wash and pat dry your face. Apply toner and moisturizer.
Chamomile Matricaria Pain Reliever
1 teaspoon jojoba carrier oil
2-5 drops Chamomile matricaria essential oil
Mix ingredients and dab onto painful areas using a facial swab or cotton ball.
Avoid areas with broken skin and reduce concentration of Chamomile matricaria oil if skin sensitivity occurs.
Jasmine & Helichrysum Scar Treatment
1 tablespoon rosehip carrier oil
2 drops jasmine
1 drop helichrysum
Mix ingredients and gently apply in a circular motion to affected areas. Avoid contact with eyes.
Bonus Makeup Remover Recipe
---
Natural eye makeup remover recipes can be hard to come by. Our eye areas are so delicate that we want a product which works without all the rubbing and scrubbing that can cause wrinkles.
What we don't want is a product that stings our eyes if we happen to open them just a smidgen to see if we got all the makeup off yet!
2 tablespoons pure witch hazel (be sure it is the non-alcohol variety)
2 tablespoons jojoba carrier oil
1 tablespoon aloe vera gel
Mix the ingredients in a dark colored glass bottle. To remove eye makeup, apply some of the mixture to a facial cotton round and gently wipe makeup off.
To Summarize
---
Essential oils can help treat, heal, and prevent breakouts without all of the negative side effects and exorbitant price tags that come with specialty acne treatment products.
Essential oils have some similar therapeutic properties to conventional acne treatments. This means that essential oils may help treat, heal, and prevent breakouts
You can incorporate essential oils into your acne skin care routine by making your own line of skincare products.
---
Read more: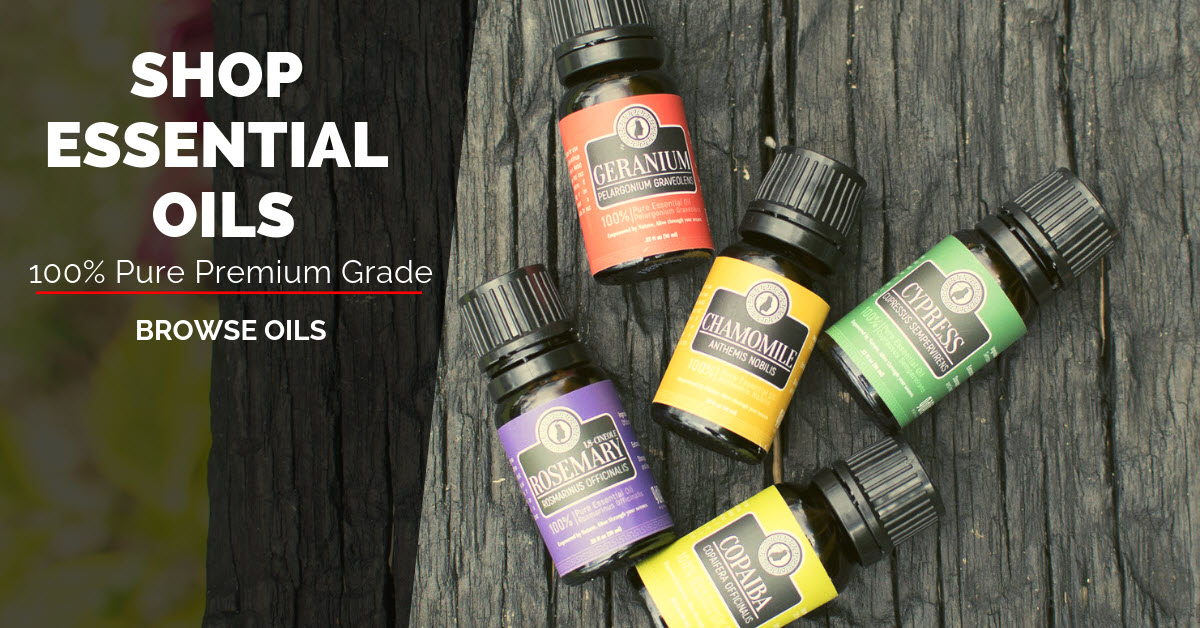 [1] Enshaieh, S., et al., "The efficacy of 5% topical tea tree oil gel in mild to moderate acne vulgaris: a randomized, double-blind placebo-controlled study." Indian J Dermatol Venereol Leprol. 2007 Jan-Feb; 73(1):22-5. Web. 2018.10.09.