Now that we know the myriad of possibilities in a bottle of peppermint essential oil, let's explore the many ways we can use this fresh and uplifting friend.
1. Body Mist For Dry, Itchy Skin
---
2 drops of oil
1 teaspoon of whole milk
8 ounce spray bottle
distilled or filtered water
Add ingredients to the spray bottle, fill with water and mist over body as a skin hydrator (and cleanser!). Shake well before spraying each time.
2. Lip Balm For Chapped Lips
---
8 drops peppermint
8 drops tea tree
8 drops lavender
2 tablespoons beeswax pastilles
2 tablespoons shea butter
2 tablespoons coconut oil
Melt beeswax pastilles, shea butter and coconut oil in a double boiler or small glass bowl over a small pot of boiling water, stirring constantly until melted.
Remove pan from heat but keep over the still-hot water to keep the mixture melted. Add the essential oils and stir well. Feel free to play with the ratios to get the scent and flavor you prefer.
Pour into tubes or small glass jars and let sit at room temperature for several hours until cooled and completely hardened before capping them.
Or if in a pinch: Add 1 drop of peppermint oil to 2 tsp. of apricot kernel oil  and apply liberally to chapped lips.
3. Sunburn Relief Spray
---
5 drops of peppermint oil
3 drops of lavender oil
2 tablespoons melted coconut oil
2 teaspoons aloe vera gel
4 ounces of witch hazel
Add to an 8 ounce spray bottle, shake well and spritz over burned areas.
4. Post Burn Healing Oil
---
1 ounce rosehip seed oil
1 ounce jojoba oil
3 drops peppermint oil
helichrysum oil
Mix together and keep in a glass container in a dark place. After the initial, hot, uncomfortable phases of the burn (during which it's best to use the spray), apply this oil mixture liberally to your skin to facilitate the healing process.
5. Anti-Dandruff Blend
---
1-2 drops of peppermint oil
1 tablespoon of apricot kernel oil
1 teaspoon of apple cider vinegar.
Mix together and massage into your scalp for 30 seconds. Leave the mixture on for 10-15 minutes, then rinse. Test a small patch of scalp before using, as some people find the tingling sensation of peppermint a bit too intense. More information about the best EOs for hair here.
6. Hair Growth Scalp Massage
---
1-2 drops of peppermint
1 tablespoon of jojoba or coconut oil
Massage into scalp for 30 seconds. Leave the mixture on for 15-20 minutes, then rinse. Test a small patch of scalp before using, as some people find the tingling sensation of peppermint a bit too intense.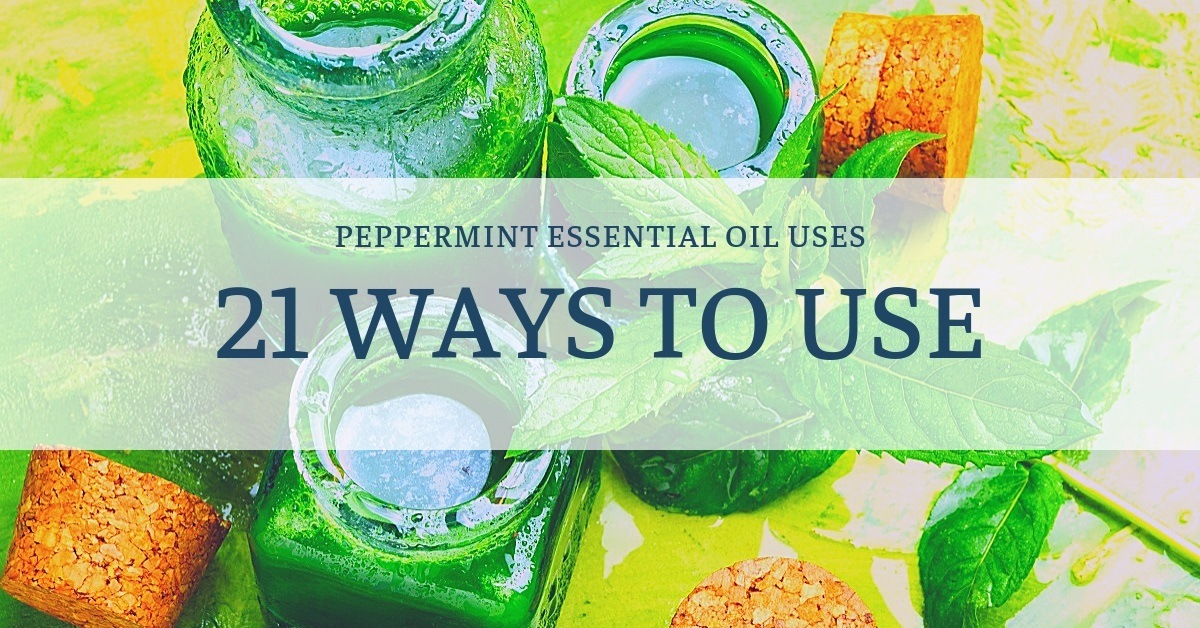 7. For Stress Reduction 
---
1-2 drops of peppermint oil
2 tablespoons of coconut oil
Add together and give your neck, chest, hands, feet, legs, and chest a massage. Begin at your neck and massage slowly down towards your feet, imagining all the mind-related stress washing down your body and out your feet with each stroke.
8. Ease Overwhelm & Increase Focus
---
2 drops peppermint
3 drops orange
2 drops lavender
distilled water
This is a great option, especially if you notice chronic feelings of overwhelm. Ad the oils and water to your diffuser's reservoir. Use in your bedroom, living room, office, or anywhere you notice yourself feeling unable to manage the anxiety of your to do list.
Before diving into work or any activity or conversation that generates overwhelm, spend a little time deep breathing near the diffuser.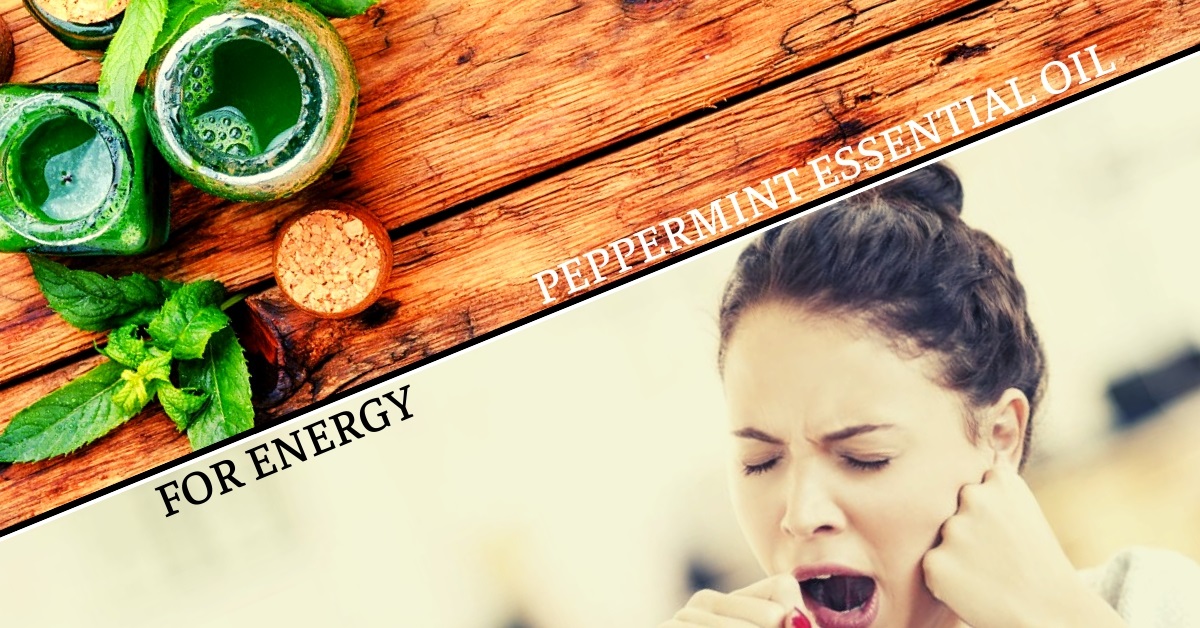 9. Boost Energy
---
1 drop peppermint
1 drop rosemary
cotton ball
A quick, easy method for an instant energy boost is to put the oils on a cotton ball or tissue, and keep in your pocket, purse or car to inhale whenever you start to feel sluggish.
Keeping a bottle on you and opening it periodically to smell the oil will have the same effect.
10. Mental Exhaustion Relief
---
1 drop of peppermint
1 drop eucalyptus
1 tablespoon of coconut oil
Mix and massage onto neck and temples. The combination of the oil and the self massage will help ease a tired mind, as well as restore vital mental energy. The loving touch of your fingers let your overworked brain know it's ok to relax.
11. Lung Congestion Buster
---
2 cups of water
1-2 drops of peppermint
1 drop lavender
1 drop lemongrass
Boil the water, add to a glass bowl. Add the oils. Hover your face over the bowl (careful not to get too close to the steam), and place a towel over your head. Breathe deeply (through your nose if possible) for a minute or two at a time. Repeat as necessary.
This blend has many benefits, including relaxing the airways and cleansing them from bacteria that cause respiratory illness.
Alternatively, add 3-4 drops of peppermint oil to a diffuser and use it off and on throughout the day, and while you sleep to ease congestion.
12. For Shortness Of Breath
---
Diffuse 3-4 drops of peppermint oil throughout your home. If you have chronic conditions like asthma or bronchitis, you can do this daily.
Massage blend
1 drop of peppermint
1 tablespoon of sweet almond oil
Mix and massage generously on your chest, neck, and shoulders, breathing deeply. The topical application will help through inhalation, as well as by offering a cooling sensation to the skin around your respiratory system, which can be specifically helpful for heat-related shortness of breath and wheezing.
13. To Ease Coughs
---
3 drops peppermint
2 drops lavender
3 drops eucalyptus
distilled water
Add the oils and water into the diffuser and diffuse in your home on days when you have a persistent cough.
If coughing is keeping you up at night, it can be especially helpful to diffuse in the bedroom. Turn the diffuser on about an hour before bed.
14. For Nausea
---
Diffusion
Add 3-4 drops in a diffuser in your home. Lay on the floor with your eyes closed and breathe deeply until your belly starts to settle.
Combat Car Sickness
To ease car sickness place 1 drop on a cotton ball and keep it in your pocket or a cup holder. Nip nausea in the bud before it even begins.
Caution: Peppermint oil has been said to be contraindicated for pregnancy, so if you want to be extra careful, avoid using it for morning sickness. Try lavender instead.
15. Ease Gas And Bloating
---
2 drops cardamom
2 drops peppermint
2 drops sweet orange
2 drops chamomile
5 ml jojoba oil
2 tablespoons shea butter
Mix the essential oils with the jojoba oil, then blend with the shea butter. Keep this in a glass jar in a dark cool place. When needed, massage your belly in a clockwise motion, lingering over spots where you notice bloating and giving a gentle yet firm pressure.
If you have a friend, massaging this combination on your back is great as well.
16. To Reduce A Fever
---
3 drops of peppermint
3 drops German chamomile
a 10 ml roll on bottle,
jojoba oil.
Add the peppermint and chamomile to the roller bottle, fill with the jojoba oil. Roll onto back, chest, and the bottoms of the feet, focusing on the liver point at the arch of the right foot. This is great for increasing circulation.
Compress: Place 1-2 drops of peppermint oil on a lukewarm or cool compress and place it on your chest or forehead to reduce your fever.
Bath soak: Add 3 drops of peppermint essential oil to whole milk or honey, add to a warm bath and soak for 10-15 minutes to cool the skin and reduce fever.
17. For Sinus Congestion
---
This a great way to reduce congestion. Pour boiling water into a metal or glass bowl, and add:
2-3 drops of peppermint
1 drop of eucalyptus or rosemary
Drape a towel over your head and position your face about a foot above the bowl, and breathe in the steam.
This is safe for sick children as well, although sometimes the aroma may be a bit intense, so have them stay for only 10 seconds or so at a time.
Adults can inhale over the bowl for 1-2 minutes at a time, or whatever feels comfortable.
18. Circulation-Boosting Massage
---
Circulation-Boosting Massage
1-2 drops peppermint
2 tablespoons of sweet almond oil
Blend and massage in circular motions over your whole body.
Concentrate on the heart center and chest first and massage methodically from the heart down each arm and leg, and around the back and belly, making sure to give good attention and pressure to the hands and feet, which often suffer first the consequences of poor circulation, and can get cold when we are sick.
19. Soothe A Sore Throat
---
Throat Massage
1 drop peppermint
1 drop lemon
1 drop tea tree
1 teaspoon of warmed jojoba oil
Blend and massage around the neck and throat for topical pain relief.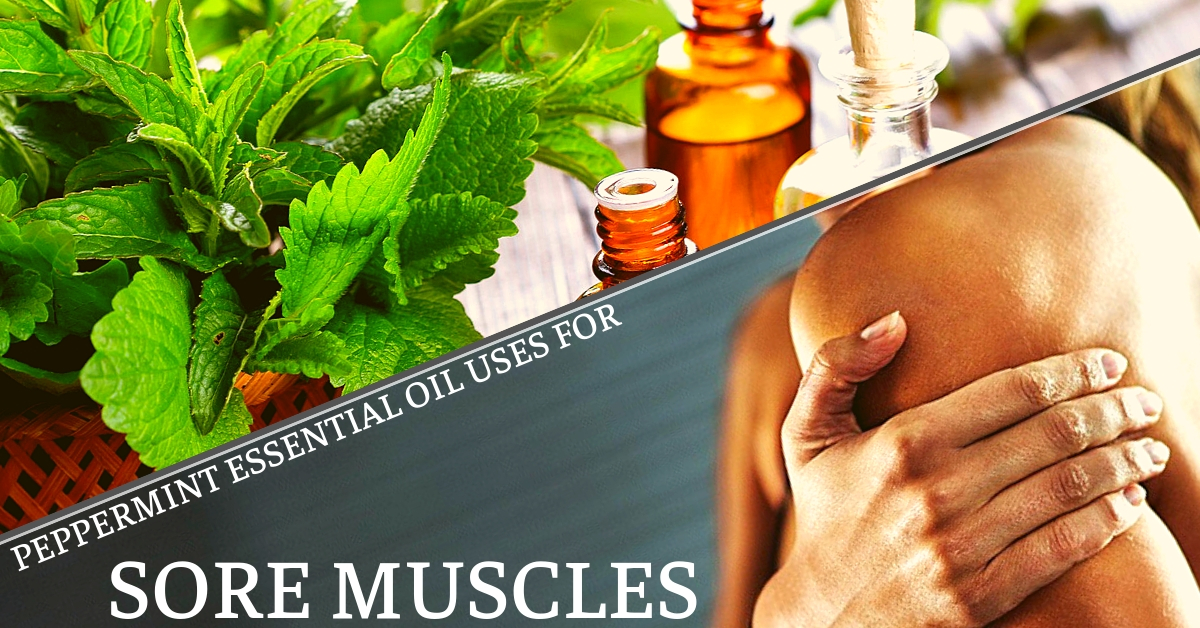 20.For Muscle Soreness
---
Muscle Ease Massage
1 drop peppermint
2 drops helichrysum
2 tablespoons of coconut oil
Blend and massage using a medium pressure into tight and sore muscles. Repeat as necessary.
21. Homemade Disinfectant Spray For Wounds
---
2 drops of peppermint
6-8 ounces of witch hazel
Add to a spray bottle and spray over cuts, scrapes, bites, and sores to disinfect and facilitate healing.
Bottom Line
---
We blended, spritzed, diffused, dispersed and soaked away! Read on to learn how to use peppermint essential oil for:
Healthy skin and hair and a fresh breath
Having a clear, focused mind and less stress
A happy belly, less pain and a better chance at fighting illness
Better circulation and respiration
---
Read more: