It is an ancient oil as renowned for its support of wellbeing as for aiding merchants of old with pest-free transport of merchandise. Luxuriant silk and cashmere garments wrapped in dried patchouli leaves carried the plant's musky, wine-like aroma from the Far East to European customers.
Patchouli reminds us that there are many ways to live one's life. Its joyous, energizing nature invites us to explore others' paths, from ancient times to present day. Sure, you can pack a bag and travel, or find ways to appreciate other lands and cultures from your phone or laptop.
Now's the time to let patchouli essential oil wrap you too in its velvety, revitalizing goodness!
Description
---
Botanical Name: Pogostemon cablin
Origin: Asia and South America
Extraction Method: Steam distillation
Plant Parts Used: Leaves
Note Classification: Base
Scent: earthy, sweet, sexy, mossy, musky, wine-like
Blends Well With: geranium, lavender, bergamot, clary sage, tansy, ylang ylang, grapefruit, sweet orange, rose alba, black pepper, cinnamon leaf, cypress, and ginger
Shelf Life: There is no shelf life for patchouli. It is like a fine wine, improving with age!
Cautions:
Maximum Dilution: Is 10% for topical use. (Recommended maximum dilution for home use is 3%.)
4 Powerful Benefits Of Patchouli Essential Oil
---
The benefits of patchouli essential oil seem as limitless as these ancient tales! It aids our bodies in so many ways–inside and out! Patchouli supports grounding, self-awareness, and the ability to confidently step away from self-doubt and anxiety. Plus it has special gifts for keeping our homes fresh and free of pests!
The 4 power-packed patchouli benefits to guide us on our way, nearby or across the world, are: Wonderful skin, total body care, mind and emotions as well as hearth and home
For Wonderful Skin
---
Lovin' The Skin You're In
Isn't it just amazing to think that our skin is our body's largest organ? It's hard to believe that it is about two square meters! That's a lot of area that yearns for patchouli's protection and enticing aroma. It's quite lovely to think that along with caring for your skin, your nervous system is uplifted, offering your energy a boost.
Patchouli is rich in sesquiterpenes that provide cleansing and protective gifts for your skin. This aids in fending off microbes and the causes of inflammation. In vitro study of patchouli oil in Traditional Chinese Medicine led researchers to conclude the oil has broader prospects related to bacterial infection.
Added to that is the restorative support patchouli offers. What a wonderful way to care for your largest organ! And one that is quite exquisite, wouldn't you say?
Anti-Aging Skin Vitality
Vitality is one of patchouli's benefits as its alcohols and esters offer the gifts of regeneration and protection, especially as we age. Skin is toned, reinvigorated and provided with support as it fends off infections and irritations from fungal infections to dermatitis.
Beta-patchoulene has been noted to have potent anti-inflammatory activity according to research that separated this sesquiterpene compound from patchouli oil. These benefits hold anti-aging secrets that are richly conveyed by patchouli's delectably mysterious aroma.
Lustrous Hair Care
Thinning hair can be distressing whether you are male or female. Patchouli to the rescue! The same compounds that aid skin regeneration do so for hair, going to the growing source in hair follicles. Your scalp is protected and toned as it is invigorated!
Total Body Care
---
For Nourishment
Patchouli aids your digestion through its stimulating effects, doing so while protecting tissues from irritations like an inflamed bowel. Beta-caryophyllene is the compound that supports your gut, your immunity, and your mood! At the same time it helps to dull the pain of stomach and intestinal gas and cramps.
Patchoulol, one of patchouli's alcohols, provides a lift for your nervous system, arousing your strength and action. All of these combined features support food and fluid metabolism! Fluids that are moving, instead of staying stagnant, are more likely to limit stone production in the gall bladder and kidneys.
For Circulation Support
Patchouli supports circulation by balancing metabolism. This encourages a smooth flow of your circulating fluids, including the components that nourish and cleanse your cells. Nutrients are delivered to tissues in exchange for toxin removal. Woosh, patchouli's toning qualities support your circulatory system's marvelous mechanisms!
The toning aids in clearing retained fluids and it supports those living with varicose veins. A methanol compound in patchouli has been noted to provide an analgesic effect related to its protective anti-inflammatory properties during an in vivo study.
For Mind And Emotions
---
Anxiety Relief
It's amazing to think that on top of all of patchouli's benefits it is a wonderful aid for mind and emotions! It is balancing, aids concentration, and supports memory. When any of us are anxious we can have mood swings, feel distracted, scattered, and maybe feel hyper. Patchouli encourages grounding that gently nudges concentration. The dynamic interplay of the oil's alcohols and terpene compounds create patchouli's uplifting, balancing benefits.
Combats Depression
It is quite sobering to look around and realize how many people, young, old, and in-between suffer from depression. And too often they do so alone, or without the empathy and patience they most need. It is likely one reason many of us turn to flowers, plants, and pets to add color and joy to our lives. It's time to add patchouli essential oil to that list! This friend from the plant family joyfully offers its uplifting gifts, lightening your day and your step.
For Disinfection
Think of cold and flu seasons–do they ever really end? The idea of harmful viruses, bacteria, and fungi hanging around a home's nooks and crannies can be quite disconcerting. An in vitro study of patchouli compounds published in 2016 focused on these in relation to growing global concerns about influenza. Researchers concluded that P. cablin has inhibitory activity against influenza, adding to its wellbeing potential. Good thing patchouli essential oil is on hand with its aromatic cleansing aids!
Repels Bugs
Some years ants, fleas, and other nasty pests seem to come out of nowhere! Even when being more fastidious, cleaning up each crumb and spill, there they are. Fortunately, patchouli essential oil is on hand to come to the rescue.
Patchoulol, a powerful patchouli oil compound, has been found to be an insect repellent as noted in a study involving ants.
Read next: 17 Powerful ways to use patchouli oil! (step by step)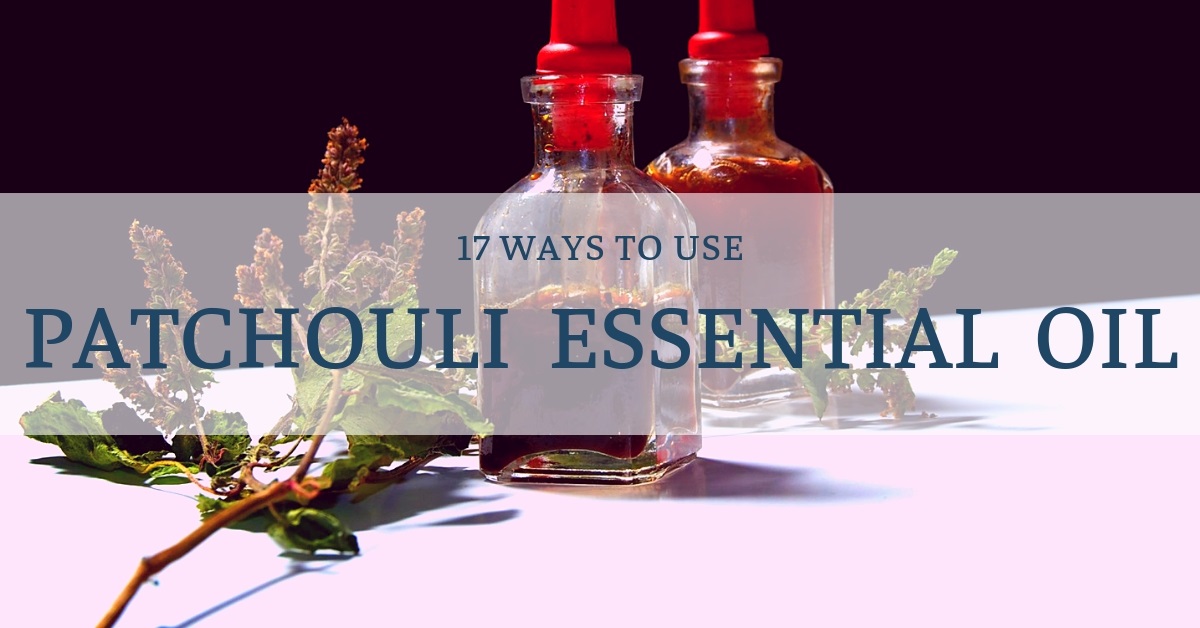 The Bottom Line
---
Patchouli essential oil aids us in toning and enticing ways! It helps to cleanse and tone skin. Thinning hair welcomes this oil's regenerative powers, while energizing actions extend to circulation and moving fluids along.
Patchouli supports balance of mind and emotions. It is uplifting for those who are depressed, or on those here and there blue days. Use when stress and/or monkey mind cause anxiety, it is lovingly grounding when you feel hyper and scattered.
Patchouli has a practical side as well. Disinfection is but a spray away. It is dynamite as an insect repellent–ticks, fleas, ants, moths, cock roaches, and all sort of creepy crawlers fall beneath its spell!
---
Read more: